About Big Rock Glass
OUR MISSION
Our reputation is based on integrity and a dedication to excellence. Through innovation and effort, we are committed to providing superior service, product and quality in a timely fashion.
We are dedicated to developing longterm relationships with our customers to further our mutual success. We are committed to safe work environments with an atmosphere of honesty and fairness.
We seek true partnerships with a limited number of suppliers who share our commitment to innovation, quality and service.


EXPERIENCE
Herb and Susan Schaller have been serving Calgary, Okotoks and areas across southern Alberta as Big Rock Glass since 2002. Big Rock Glass is your professional choice for quality auto glass, residential and commercial glass installation.
In the glass business for over 40 years, Herb provides an extremely broad range of products and services. You can count on Big Rock Glass' established reputation for reliable customer service and competitive pricing.


BUSINESS LOCATION and HOURS
Big Rock Glass is located 5 minutes south of Calgary in Dewinton. Business Hours: 8:00 a.m. to 5:00 p.m. Monday to Friday.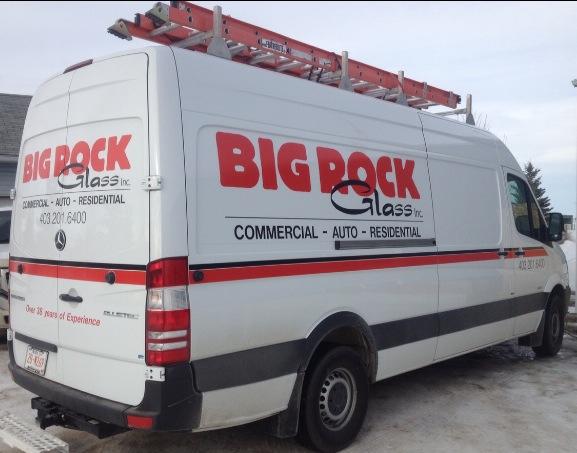 ---
What Our Customers Say
Elrus Aggregate Systems has been manufacturing aggregate and mining equipment since 1975. Herb Schaller has been working with Elrus for the last 30 years. Herb is personable and reliable in every way. I always appreciated that he takes a personal interest to ensure we receive excellent service each time. He proactively communicates with us to ensure he maintains inventory to meet our needs.  Herb works with us to resolve installation concerns and enthusiastically assists us in or efforts to continuously improve, providing innovative solutions to new design concepts.
It's my privilege to write this in favour of Big Rock Glass Inc. The bottom line is that Herb gets the job done efficiently and on time with Quality products.
Thanks Herb for a great relationship in business.
Dan Janzen, Production Manager.


---

I have worked with Herb for many years. He is always able to provide top quality work, on time as promised. Very professional. I have never heard a "can't do that". Herb can always see the big picture and gets the job done. No need to look elsewhere.
Ed Messer
Twin Pines Contracting Ltd.


---
Big Rock Glass - A little tiny Canadian company making a difference.